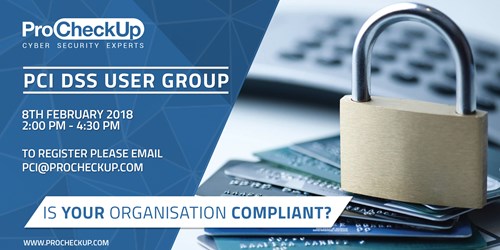 PCI DSS User Group
Date: 8th February 2018
Time: 2:00pm - 4:30pm
ProCheckUp is happy to announce the FIRST PCI DSS User Group of 2018! Join our senior compliance consultant Paul Bissette, speaking on the new requirements of PCI v3.2.
As usual, the objective of the User Group is to get participation from each attendee in the roundtable discussions and to allow you to ask questions and share your experiences with the rest of the group.
Featuring Gemserv's Experienced QSA
ProCheckUp is happy to welcome Steve Lewis, experienced QSA, at Gemserv. Steve will be speaking of Gemserv's unique approach to PCI DSS, how they are helping a range of organisations, from FTSE 100 corporations to SMEs, to understand their PCI DSS requirements and how to implement the standard.
For more information regarding Gemserv's work with PCI DSS follow this link:
Gemserv.com/information-security/pci-dss
Register for this FREE event in London to build a secure business and gain trust from customers.
---
About the PCI User Group
The Payment Card Industry Data Security Standard (or PCI DSS for short) is a set of complex regulations which all businesses taking credit card payments must go through. Although the exact requirements for each merchant to achieve PCI DSS compliance are dependent on the number of transactions taken annually, the requirements broadly fall into two parts: scanning and auditing.
The PCI User Group was formed back in 2005 for merchants and retailers to come together and talk about the issues surrounding PCI DSS. The aim is for merchants to be able to share experiences with fellow professionals, and to learn from the different businesses and sectors that attend the meeting.